Finance Restaurant Equipment
Financing Restaurant Equipment, also known as leasing restaurant equipment, restaurant equipment financing, and more is a great alternative to purchasing equipment with payment up front cash. Statistically 86% of corporations, form start-ups to Fortune 500 companies, use financing or leasing for their equipment and supply.
Elite Restaurant Equipment Financing provides a fast and easy way to apply, with industry low interest rates. Here at Elite Restaurant Equipment, we know how hard it is to grow your business when you are lacking the capital to lease new equipment.
Staying on top of the competition is a matter of upgrading your kitchen supplies and your service, and we are here to help you with your restaurant equipment leasing. We'll help you take your small business to the next level and remain relevant to what consumers want.
Contents:
Financing Benefits
Top Questions
Equipment Finance Calculator
Financing Process
Financing Terms
Financing Restaurant Equipment Benefits
Cash Flow
As a business owner you know the importance of cash flow. Cash flow allows a business to make better investment decisions which can lead to the success of a corporation. Financing restaurant equipment lets you invest your money in higher dividend places such as: rent, supply, employees and more. Take advantage of payment off your restaurant equipment in terms up to 36 months.
Bank Relationship
Bank relationships will prove to be a valuable tool for unforseen financial situations. Financing restaurant equipment can help build your credentials with any bank. Building a good relationship with your loaners can allow you to grow faster.
100% Tax Deductable
Financing restaurant equipment is 100% Tax Deductible. The IRS Tax Code allows a corporation to deduct the full purchase price for equipment purchased or financed in the current tax year. This can mean getting free usage of your equipment the first year of use.
Affordable Payments
With Elite Restaurant Equipment Financing, choose your payment terms. Pick a comfortable monthly payment that works for you!
More Reasons to Finance Restaurant Equipment

Conversion of Cash
Cash flow is critical to the success of any business. For some people, paying cash is a good way to acquire equipment. For others, paying cash can be the most expensive way to solve the problem. Financing Restaurant equipment can work well if executed strategically.
Tax Deductible
The IRS Tax Code allows a business to deduct the full purchase price for qualifying equipment purchased or financed during that tax year. In this way, you essentially get "free" usage of your equipment for over a year.Take advantage now.
Conversion of Bank Line
An available line of credit is an extremely valuable tool to address unforeseen financial emergencies. Reducing your open lines of credit by using them to finance equipment can be dangerous.
Stay Up To Date
A lease can be written for a term that fits the equipment's usefulness. At the end of the term, the equipment may be returned and a new lease can be written for new equipment that best suits your needs. You can have the equipment for a low monthly cost.
Pricing
Our restaurant equipment loans aren't the only valuable service we offer for businesses that are looking to upgrade and expand. Our financing options include: Working capital loans, purchase of discounted equipment, restaurant equipment financing, growth financing, equipment financing, and more.
Quality
As the best of the restaurant equipment leasing companies, we are here to offer you creative solutions to your financial dilemmas. We've provided hundreds of businesses with the capital they need to upgrade their equipment and ensure that quality is kept up to par at all times. Our financing solutions allow you to stay up to date without inconveniencing your customers.
When are You Going to Be Ready to Get Started?
When you're ready to take your restaurant to the next level by leasing newer equipment, give Elite Restaurant Equipment a call at 888-886-7279. With a simple phone call, you can see why thousands of businesses have chosen us over the competition when new equipment is necessary.
Top Questions:

Can I get approved now without extensive financing statements? YES

Can I take advantage of tax benefits and deduct payments? YES

Can I defer payments until the equipment is installed correctly? YES

Can I avoid financial reporting? YES

Can I match monthly payments to current cash flow requirements? YES

Can I buy equipment quickly? YES

Can I purchase used equipment? YES

Do I have ownership options at the end of the term? YES


Restaurant Equipment Finance Calculator
The restaurant equipment finance calculator allows you to easily calculate what your monthly payments will be. The attributes will be: the total price of your order, down payment, and finance terms. Elite Restaurant Equipment is proud to introduce the Finance Calculator for restaurant equipment.
The restaurant equipment financing terms are a great solution for purchasing anything for the kitchen. If you are need of a new sink, but can use the cash flow small payments made every month can make you own it. The restaurant equipment finance calculator lets you easily see what those small monthly payments will be.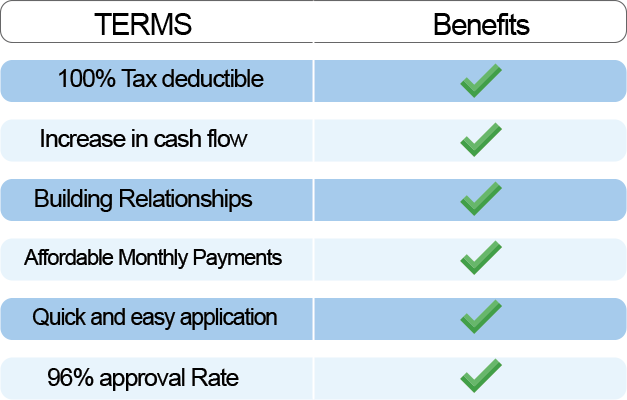 Easy 6 Step Approval Process
Click "Get Estimate" and fill out credit application. 96% get approved! Its simple and easy: 1 simplified documentation, easy one page applications, accelerated approval times, and more.
Finance documents will be emailed to you. Financing minimizes your initial costs and allow you to earn profits from your new equipment faster.
Lease payments can be matched to project revenues, seasonal cash flow variations, budget limitations and other challenges.
Fill documents out, sign them, and email or fax them back to us. We can structure leases to meet FASB requirements for "off balance sheet" accounting treatment.
Tax Expensing. For companies that do not qualify or choose not to employ the Article 179 Alternative, lease payments are written off as they are made.
Avoid Bank Restrictions: Leases do not include blanket liens, restrictive covenants, rate escalator clauses, "call anytime" provisions, compensating balance requirements, or any of those other nasty little surprises that tend to be a part of traditional lending arrangements.You're finished! Your equipment will ship and our team will call you to confirm the arrival of your supplies.