Restaurant Equipment & Supplies from Elite Restaurant Equipment
Find Restaurant Equipment and Restaurant Supplies for Industrial, Food Service use.
All Refrigeration Equipment
Choose from thousands of commercial refrigeration equipment products. Reliable refrigerator and freezer brands at wholesale prices.
Refrigeration Equipment
All Commercial Ovens
All purpose ovens that will cook anything from bread to steak. From convection models to conveyer, we've got the oven for your bakery, cafeteria, pizzeria, and any other food service operation.
Commercial Ovens
All Shelving
Organize your workplace with an assortment of shelving including wire shelving, solid shelving, wall mount shelving, and more.
Shelving
Elite Restaurant Equipment Education Center
Your restaurant supply resource for buying guides, industry trends and helpful advice to assist you on the way to success.
All Food Holding & Food Warming Equipment
Our selection of steam tables, buffet tables, food warmers, and holding cabinets is the perfect solution for you.
food holding & warming equipment
All Cooking Equipment
Keep your kitchen equipped with high quality commercial cooking equipment. We carry cooking equipment for food service establishments of all sizes.
Cooking Equipment
All Food Preparation Equipment
This food preparation section has everything you need to transform ingredients into your favorite dishes.
Food Preparation Equipment
All Coffee Equipment
Commercial coffee equipment provides food and beverage businesses and employee break rooms with the ability to produce large quantities of coffee products throughout business hours.
Coffee Equipment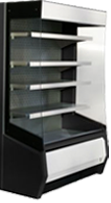 All Food Display & Merchandising Equipment
Increase impulse buys and profits with display and merchandising equipment.
Display & Merchandising
Commercial Restaurant Equipment
Having the right restaurant equipment makes all the difference in any commercial restaurant. Food preparation, cleaning, and other daily tasks are easier when your kitchen is outfitted with high-quality commercial cooking equipment.
After all, no one wants to deal with unreliable, inefficient cooking equipment. Imagine your kitchen is in the middle of a morning rush, only to realize that your refrigerator has broken overnight. Not only do you have to pause operations, but you have to throw away perishable items, resulting in wasted product, lost revenue, and missed opportunities. Getting the right tools the first time will save you and your employees time, money, and hassle.
Choose the Right Commercial Equipment for Your Business
As a restaurant owner, investing in quality commercial restaurant equipment designed for heavy use is always a good idea. Restaurant equipment is built for the intense commercial kitchen environment. It is much more powerful than equipment intended for home use.
At Elite Restaurant Equipment, we stock a wide variety of products, each with different sizes, materials, and functionalities. It's important to make an informed decision to make the most of your investment. So when selecting equipment for restaurant use, there are a few key factors to consider.
1. First, determine your budget. What is the most you are willing to spend on equipment restaurant needs?
2. Next, consider the types of products you will need. Every restaurant kitchen needs certain essentials, including refrigeration, commercial ovens, sinks, and other cooking equipment. You might also consider additional equipment that makes food preparation easier, such as extra shelving, work tables, or dish storage cabinets.
3. Lastly, determine the size and quantity you need for each product. For example, refrigerators are available in a wide variety of dimensions and configurations. Consider your kitchen and select the unit that makes the most sense for your space, budget, and needs. You might opt for just one large walk-in refrigerator or a mid-sized wall-in refrigerator, plus an additional glass door reach-in refrigerator.
Order Restaurant Equipment and Supplies for Industrial and Food Service Use
When you shop with Elite Restaurant Equipment, you can get everything you need from one place. Our full restaurant equipment supply includes thousands of top-of-the-line products, including everything from refrigeration to pizza ovens. Not only do you have the convenience of single-stop shopping, but you can also rest assured that you're getting the lowest possible wholesale prices. It's our goal to help everyone get high-quality restaurant kitchen equipment at an affordable price, whether you're shopping online or in our store.
Our team is knowledgeable about all types of restaurant equipment, so don't hesitate to contact us with any questions. Or, visit us in person at our store in Newark, NJ. We're open 7 days a week.