Universal URCD48 48" Refrigerated Deli Case Counter Height
Universal URCD48 48" Refrigerated Deli Case Counter Height

Free Shipping!
Contiguous U.S. Only
| | |
| --- | --- |
| Manufacturer: | |
| Item: | Universal URCD48 48" Refrigerated Deli Case Counter Height |
| Availability: | In Stock |
| Shipping: | Usually Ships In 1-2 Business Days |
| SKU: | URCD48 |
| Condition: | New |
| Length: | 32.5 Inches |
| Width: | 48 Inches |
| Height: | 43 Inches |
| Question(s): | 5 Answered Question(s) |
| Reviews | 5 out of 5 stars overall user rating |
---
Overview
The 48" refrigerated deli case displays deli meats and salads with rear access capabilities.
The Universal URCD48 48" refrigerated deli case has a stainless steel, flush design which helps display your best-selling cold products. Many use it in grocery stores, cafeterias, super markets, and restaurants. Most are using this refrigerated deli display case to store cold cuts, cheese, salad, sandwiches, and meat. The refrigerated deli case is often placed in the front of the house so guests can easily see the products displayed.
Construction
This 48" refrigerated deli display case exterior is constructed from coated steel. The interior is made with stainless steel and aluminum liner.
Design
This refrigerated curved deli case is modern and sleek. The stainless steel exterior and coated steel is sharp and attractive. The rounded corner inside makes it easy to clean. The curved glass makes it look like there is no barrier between your product and your guests.
Digital Temperature Control
The digital temperature control is easy to use. It allows you to control the temperature between 32 and 43 degrees Fahrenheit. The gravity coil refrigeration system provides the best temperatures for meats, and cheeses.
Rear Access
This curved refrigerated deli case has rear access, which allows you to display your products from the working side.
Shelving
The shelf is made from heavy duty PVC corrosion proof coated steel wire. This shelf is adjustable to any height in the deli case, so you can display your products the way you like most.
Casters Included
This model deli case includes 4 heavy duty casters mounted to the bottom of the refrigerated deli display case. Two of the casters include locks which ensure the deli case will not move when you don't want it to. The casters are great for cleaning, you can easily move the deli case to clean underneath it.
Bottom Mounted Compressor
The bottom mounted 1/3 horsepower compressor is located in the back of the deli case, which makes the condenser coil easy to access. This increases energy efficiency, while providing a sleek flush design.
---
Product Information
| | |
| --- | --- |
| Access Type | Doors |
| Amps | 5.8 |
| Capacity | 18 cu. ft. |
| Color | Stainless Steel |
| Compressor Location | Bottom Mounted |
| Depth | 32.5 Inches |
| Door Style | Rear Sliding |
| Features | Easy Access Condenser Coil |
| Glass Style | Curved |
| Height | 43 Inches |
| Hertz | 60 |
| Horsepower | 1/3 HP |
| Length | 32.5 Inches |
| Manufacturer | Universal |
| Manufacturer Part Number | DC120 |
| Model Number | URCD48 |
| Number of Doors | 2 |
| Number of Shelves | 1 |
| Phase | 1 |
| Refrigerant | R-134 |
| Self Contained | Simple Install |
| Temperature | 32 - 43 Degrees F |
| Voltage | 120 |
| Weight | 325 lbs. |
| Width | 48 Inches |
Details
Free Freight Shipping
NSF Compliant, 120V
1 Adjustable Shelves Included
Environmental R-134 Refrigerant
Installed Swivel Casters Included
5 Year Warranty On Compressor
Performs In All Working Conditions
Easy Access Condenser Coil
Low-E, Double Pane Curved Glass
Easy To Use Temperature Control
Certifications

5 Year Warranty
5 year product warranty.

ETL
This item has met the standards set by the Intertek Group (ETL), which testes safety and sanitation.

NSF
This item has met the standards set by the National Sanitation Foundation (NSF), which tests public safety, health, and environment.

UL
This item has met the standards set by Underwriters Laboratories (UL), which tests safety.
Tested With
---


---
Compare to Similar Items
| | This item Universal URCD48 48" Refrigerated Deli Case Counter Height |
| --- | --- |
| Customer Rating | |
| Price | $2,770.35 |
| Shipping | FREE Shipping |
| Availability | In Stock |
| SKU | URCD48 |
| Length | 32.5 Inches |
| Width | 48 Inches |
| Height | 43 Inches |
| | |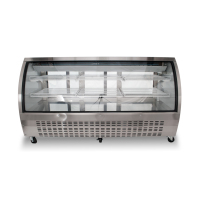 FREE Shipping
In Stock
URCD79
32.5 Inches
79 Inches
43 Inches
---
Related Products
---
Recommended
---
Customer Questions & Answers
Question:
Can I add another shelf
Question:
I have an old Delfied deli cooler. If I order a new one do you take the old one back and give me a rebate?
Answer(s):
Depending on your location the shipping carrier may be able to remove your old deli cooler for a fee. We do not sell used equipment therefore we cannot give you a rebate for it.
Nov 03, 2018
Question:
do you sell wheels seperately? if not where can we purchase them?
Answer(s):
See
Compatible Casters
for this model. Two of the wheels lock. The swivel feature enables the wheel to revolve, which makes it easier to move.
Nov 13, 2018
Question:
Good day, My sister and I are very excited to be opening a very small deli in our community. We are located in the Caribbean, St Vincent and the Grenadines to be exact. We would really like to purchase one of your refrigerated display cases, would you be willing to ship your product to the Caribbean and if yes can we have a quote please ? We look forward to your response. Regards, Soneth John
Answer(s):
We are unable to ship to your location. However, we can give you the option of setting up your own shipping and picking the item up from Newark, NJ.
Jul 28, 2020
Question:
picture shows 2 rows of shelves, description says 1. can a second shelf be ordered and cost
Answer(s):
A second shelf can be added for $249.00.
Jul 28, 2020
---
Customer Reviews
---
Customer Rating
Very Pleased With the Case
We use this deli case to display our ham and turkey meats for daily sales. It was an easy choice and the customer service was exceptional. The price was exactly within our budget.


---
Customer Rating
Great for Cafeterias
We use the refrigerated deli case for our cafeteria to ensure that our meats and cheeses, along with our soft serve desserts, stay cold. The refrigerator arrived precisely when they said it would and it was well packaged. Great experience all around.


---
Customer Rating
Nice, easy & best price
It came quickly exactly as described. The price is fair compared to other deli cases i've seen. I'm a happy customer the only reason im leaving this satisfactory review is because the deli case came with a small ding on it. Nothing major and luckily its on the work side but when you order something brand new you want it perfect.


---
Customer Rating
Good value
This deli case is a great value compared to other brands. The order and shipment went smoothly. I like the stainless steel finish its clean looking.


---
Customer Rating
Barron M.
Very happy, exactly as described. Deli case shipped same day! i was emailed tracking within 24 hours. Professional company.


---
Customer Rating
PA Bagel and Deli
My favorite curved glass refrigerated deli case <3 Looks good, priced good, works good,, smells good ;)


---
Customer Rating
Ali's Market
great deli case for the money.


---
Customer Rating
Tony's Asian Richmond, VA
Great deli case. I am using the deli case in front of the house to sell sodas, iced tea, and my special sandwiches. Perfect for what im using is for. Good design, arrived quickly, packaged well. I got exactly what i expected. Thank you, i am a customer.


---
Write Your Own Review
Review this item to help others make the best choice.
Share your thoughts with other customers.
You are reviewing: Universal URCD48 48" Refrigerated Deli Case Counter Height