Universal TSC-5 - 5" Push-In Table Casters - 4 Per Case
Universal TSC-5 - 5" Push-In Table Casters - 4 Per Case
| | |
| --- | --- |
| Manufacturer: | |
| Item: | Universal TSC-5 - 5" Push-In Table Casters - 4 Per Case |
| Availability: | In Stock |
| Shipping: | Usually Ships In 1-2 Business Days |
| SKU: | TSC-5 |
| Condition: | New |
| Length: | 5" |
| Question(s): | 1 Answered Question(s) |
| Reviews | 5 out of 5 stars overall user rating |
---
Overview
This 5 inch work table swivel caster set enables mobile support and includes two locking casters.
The Universal TSC-5, 5 inch work table push in swivel caster set makes your commercial work table or equipment stand mobile.
Durability
This caster set boasts 1350 lbs of support.
4 Casters, 2 are Locking
This set includes 4 casters total. 2 of the 4 casters are lockable. The 2 locking casters provide the durability of legs. All 4 casters swivel,
Easy to Install
Easily install the swivel stem casters by removing the foot of the legs and inserting stem of caster.
---
Product Information
| | |
| --- | --- |
| Length | 5" |
| Manufacturer | Universal |
| Metal Type | Stainless Steel |
| Model Number | TSC-5 |
| Weight | 10 lbs. |
Details
Brand Name You Can Trust
Elite Restaurant Equipment Best Price Program
Sturdy Construction
Easy to Install
Heavy Duty for Commercial Use
Industry Leading Quality
Certifications

5 Year Warranty
5 year product warranty.

Made in USA
This item was manufactured in the United States of America.

UL
This item has met the standards set by Underwriters Laboratories (UL), which tests safety.
---
Compare to Similar Items
| | This item Universal TSC-5 - 5" Push-In Table Casters - 4 Per Case |
| --- | --- |
| Customer Rating | |
| Price | $91.01 |
| Availability | In Stock |
| SKU | TSC-5 |
| Length | 5" |
| | |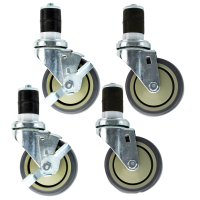 In Stock
TSC-4
2.625"
In Stock
CWT-5
8"
In Stock
CWT-5L
8"
---
Related Products
---
Recommended
---
Customer Questions & Answers
Question:
Is the wheel size 5'' or is that the height of the entire unit? If it's the entire unit, what is the dimensions of the male piece that goes into the table? Is the male piece a universal size or specifically made for the 24x72x36 SS table with galvanized undershelf? In other words, how much will this raise up my table?
Answer(s):
The wheel raises the height of the table by five inches.
Aug 06, 2020
---
Customer Reviews
---
Customer Rating
Good Table Casters
Our team needed these casters for easy use. They are good quality, but didn't come with a manual and took a while to arrive.


---
Customer Rating
Did The Job Well
We bought these push-in table casters for our stainless work tables and while the price was good, the quality and the delivery time was even better!


---
Customer Rating
Added to Stainless Steel Work Table
I got these with a stainless steel work table, they fit perfectly and were easy to install. They add about 5 inches in height which is good for me. The wheels came together in a separate package from the table. Two of the wheels lock. To install you have to remove the rubber feet of the leg and push the wheels through the same slot.


---
Write Your Own Review
Review this item to help others make the best choice.
Share your thoughts with other customers.
You are reviewing: Universal TSC-5 - 5" Push-In Table Casters - 4 Per Case